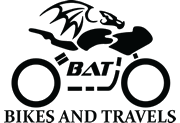 Home
Contribute
Contact BAT
Chit-Chat
BAT Facebook Page
Ren's Biking Blog
Sharon's Biking Blog
Guest Posts
Bike Reviews
Bike Gear Reviews
Bike Tips
Travel Stories
Travel Tips
Places To Visit
Places To Stay
Repair And Restoration
Interesting Links
BAT MCC
Search This Site
Welcome To Bikes And Travels...
...It's about bikes...and travels...mostly on bikes!
What's New?
Dirty Winter Bike It's that dirty time of year again folks. Ren is wondering why the hell he puts himself through it all.

---

Module 2 Test AT LAST! Sharon gives us the benefit of her miserable experience of her first attempt at the Mod 2 test.

---

Berghaus Deluge Waterproof Overtrousers Review Ren is deeply saddened by the demise of his amazing waterproof pants. This is the tale of dry crotches, easy putting on and getting off - ness and long service. But all good things must pass.

---

Fake NGK Plug Cap? Ren's CBF 125 seems to have devoured another spark plug cap. Are NGK products not really up to scratch? Was the last one a fake? Does the Honda expose the cap too much?

---

Easy Side/Centre Stand Spring Refitting In this video Ren shows us a simple and easy trick to make replacing side stand springs a hell of a lot easier and less painfull.

---

Tip For Replacing The Rear Wheel Ren shows us his handy trick to help making putting the rear wheel back into the bike just that little bit easier

---

Bearing Basics Ren shows us a short video about bearings, in this case wheel bearings. There's wobbly bits and ball bearings all over the kitchen now.

---

Module 1 Test Today's the day...Sharon has to take the dreaded Module 1 practical test. She's terribly nervous. Will she remember to breath let alone keep the bike upright?

---

Show Us Ya Big Miles Have you racked up enormous miles on ya bike? Does your engine rattle and clatter with a gazillion kilometres on the clock? Is it held together with luck and duct tape? If so this is the page to show us ya big miles.

---

Battery Removal - Negative First Why should we disconnect the negative terminal on a battery first? What is negative ground? And is Ren just a mechanical assassin?

---
Latest Posts
Tips On Riding A 125 On A Motorway – By Ren Withnell Tristan said :-
Well I'll certainly try to find somewhere, and in the meantime I'll give that biker guide a look.

---

The Wrynose And Hardknott Pass 2012 - By Ren Withnell Ren - The Ed said :-
Cheers Jon. I'm surprised you've only lost one student. As I said in the article I was thankful that I used my CBF 125 rather than my "big" bike at the time, an early Fazer 600. As for taking a 7 foot tall 250 kilo "adventure" bike over that hill - forget it! Not unless the rider is 7 foot tall and built like a rugby player.

---

Dirty Winter Bike Ren - The Ed said :-
Hi Bob. I have created a new acronym regarding the tailgating German cars - G.E.T.S. which stands for "Germanic Executive Transportation System" or in reality "Germanic Executive Tailgating System". While other countries' cars may at times be a little too close it will typically be an Audi-BMW badge you'll see in your mirrors - if you had any. Obviously their business meeting or Chelsea's ballet lesson is more important than your safety.

If you wish to hold on to the romantic notion of travelling to far off worlds on your steed then a small bike need not stop this. Ed March on his C90 for example. I know many overlanders prefer a small bike for ease of use. Remember it's not a race nor is it a display of how wealthy or manly you are.

I too like you prefer those tiny quiet empty back roads. That's where the best places can be found and the sense of space and peace comes over me. A small motorcycle is truly at home on the back roads.

---

Dirty Winter Bike Bob said :-
Well, I haven't actually paid full price for any of my Scottoilers. The one I'm running at the moment was £5 from the Classic Mechanics Show autojumble!
I'm trying to get my head around the downsizing issue. I just can't shake the feeling I'm making a mistake, but the KLR is ~28HP so it's enough for a solid 60-65MPH which is all I used to do on the Honda 650 anyway.
I like the feeling of freedom that a big bike brings, thoughts of trips to the continent and Long Way Round type adventures and yet, with an 8 year old at home and a full time job it's just not going to happen. Most of my riding is either very early (before she gets up) or at night (after she has gone to bed) and I just get an hour or two for a quick blat around the Peak District. So why do I need 120MPH on tap for that?
The fact is my most enjoyable rides are the ones down the single track roads and green lanes, away from all the nobbers (on four wheels and two, especially in summer) and a 250 is more than enough. For the occasional long run it will still do it with no problems.
Last weekend I went up to Keighly, to look at the KLR250 I'm now buying and I had the idea of going on my KE100. My initial thought was "I can't do that!" then I realised, back in the day I went everywhere on my first bike (a GP100) and how soft have I become? So the Versys stayed at home and I set forth on the KE100 - over the tops of the hills, Woodhead pass, Holmfirth etc. It took over 2 hours from Chesterfield, but it was a hell of a ride. The little bike will hold 50MPH on the flat with no problems. I did the run as a test and it reminded me how much fun small bikes are.
Important for me is the feeling of unstop-ability, the feeling that you can ride across anything, get through anything. On the Versys there have been a few times when I've gone to turn down a lane, seen the mud and the broken surface and gone a different route - I HATE that!
The only fly in the ointment with riding smaller bikes is German cars and the people who drive them. I've discovered the secret to happy riding is to remove the wing mirrors! If you can't see how close they are you can put it out of your mind.

---

The Wrynose And Hardknott Pass 2012 - By Ren Withnell Jon Hill said :-
I think the presence of a marked police motorcycle makes other drivers give way, which gives you more of the road to manoeuvre these behemoths. Only once did a student come to grief; he had to stop on a tight uphill hairpin and due to extreme camber couldn't hold the BMW up with it crashing to the ground. Fortunately three of us could pick it up again.
I have since heard of Euan and Charlie wannabees struggling with monster Touratech equipped machines taking on this road without the necessary skills.
Doing it on the C90 was pure fun and ultimately far safer.

---

The Wrynose And Hardknott Pass 2012 - By Ren Withnell Ren - The Ed said :-
Hi Jon Hill. Pans and BMWs!! Now we all know police riders are highly trained and supremely confident but you're not going to tell me they all found it easy and no one has ever dropped a clanger there?

I'd definitely prefer the C90, proper piece of kit.

---

The Wrynose And Hardknott Pass 2012 - By Ren Withnell Jon Hill said :-
I used to ride Wrynose and Hardnott on BMWs and Pan Europeans as a police instructor. Always entertaining! I did it last year on a C90. That was far easier and even more entertaining and probably quicker too.

---

Tips On Riding A 125 On A Motorway – By Ren Withnell Ren - The Ed said :-
Hi Tristan. By hang out I mean a place where bikers usually gather! Here in the North West there's Rivington Barn for example. On a warm summer's day there might be 300-600 bikers up there on a Sunday afternoon. I am not aware of anything like that in East Anglia. Have a look on Facebook, there's probably some info and groups on there.

That said the bike clubs are cool too. You're right, some won't entertain a "yoof" on a 125 but then plenty will welcome you with open arms. It can be hard finding a club to your style and taste so don't be afraid to "shop around". There's a whole world of motorcycle folks out there. Some are idiots, thugs and chavs but most of them are regular people who share the same passion.
www.thebikerguide.co.uk ...

---

Tips On Riding A 125 On A Motorway – By Ren Withnell Tristan said :-
That is a good point Ren. I'll make sure to ask about motorway lessons. With regards to where I'm from, I live in the East Anglia area, so finding a club should be easy enough, so I'll give that a try too. I hadn't really thought about asking a local hang out, simply on the basis that I figured they may not take a teen just starting biking very seriously. But then, I have no evidence backing that idea up, so I imagine I'm entirely wrong. I'll check a couple of them out and see what they say. Thanks again for helping me out, and I'll go for speaking to bikers for the time being :)

---

Tips On Riding A 125 On A Motorway – By Ren Withnell Ren - The Ed said :-
Hi Tristan. If you've got a few spare pennies once you've passed your test ask your instructor for maybe an hour or two lesson on the motorway?

Where are you from Tristan? There's bound to be some local biker hang out where you can make friends and glean opinions, help and advice.

---
Latest Chit-Chat
Go To Chit-Chat
---

Ren - The Ed said :-
Hey Henrick. Is there a third case? I can only see 2. You seem to be missing a petrol tank as well.

Warm, oh sweet warm, I shall be in my cold damp shed this afternoon as we start to put Sharon's Keeway back together.

We will be in The Netherlands this summer! We should meet you in Northern Germany.

---

Henrik said :-
Fitting them ole Givi E41's from the GS500, the reward for keeping them, saved 150£ for a new luggage system, and yes, nice to have a good dry place to work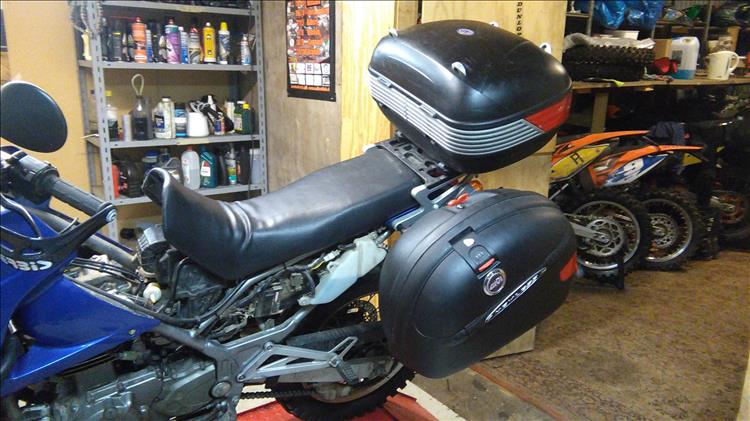 ---

Ren - The Ed said :-
DavidM - It takes a real tough man to be butch enough to ride a scooter. I'm sure you've heard the song "A boy named Sue". If not Google will sort you out.

Henrik - great picture, I think my circle is so deep I'm in it up to my shoulders.

---

Henrik said :-
We all do :-)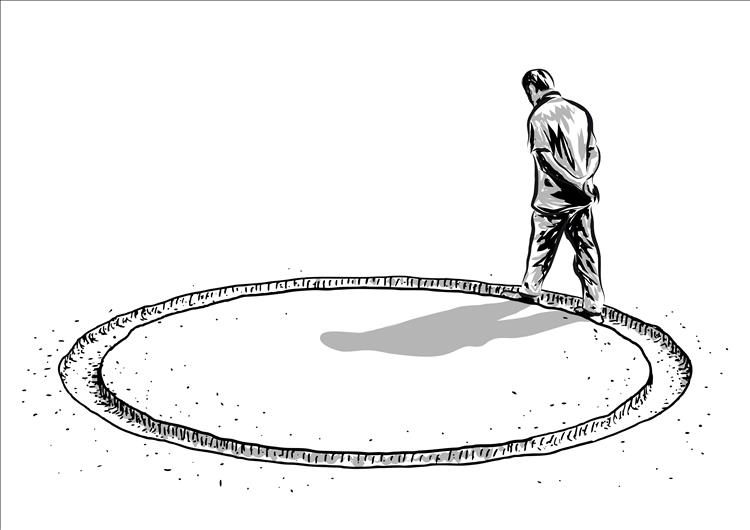 ---

DavidM said :-
Hi Ren,
Very sage advice! But I can be in all of those moods! I sat on an Nc700x for the first time today and it seemed the right size and unintimidating. I can't be sure about the wind protection from that little screen but I suspect it is quite good from being far forward. I don't like too much wind blast and windnoise.I did think about the scooter, it holds 60 mph easily on the motorway and you can stick a big holdall comfortably between your legs in the footwell. It's just you feel a little small and slow and dare I say it ...not very masculine!! Thanks,I'll continue going around in circles....

---

Ren - The Ed said :-
Hi DavidM. HA! Everything is an opinion and I can only offer opinions rather than facts. Firstly I've only ever briefly ridden an earlier VFR 750 once so it's impossible for me to pass judgement on that machine.

The NC700X is sensible and the one I would choose. The Divvie is a good strong solid bike and a sensible option - but lacks economy. It would be more exciting than the Honda though only marginally. The Shiver is an exciting machine with vicious, thrilling grunt while managing to be user friendly with a good seating position and 3 switchable power options that make it tame if the mood or weather requires. High exhausts can make luggage choices difficult.

Are you a hooligan? Then it's the Shiver. Are you sensible? Then it's the Honda. Are you in between? Then it's the Divvy. Of course the VFR is, I am told, an excellent tool but for me there's one thing that puts me right off - complexity. The major service is phenomenally expensive. The easiest to service would be the NC.

We could go around in circles all day long...so instead how about making it a REAL adventure and taking the scooter? You'll save a fortune and see a whole lot more.

I'd love to hear what you decide. Either post up on here or drop me a line - renwithnell@hotmail.com.

---

DavidM said :-
Hi Ren,

I've scooted for the last 2 years and have an SH125 which is a great scooter, but am thinking of a Midlands to Switzerland trip by bike. I'm 6ft tall and biked for 9 years. My favourite owned bike so far has been a Thundercat-loved the engine and design-, after a F800ST(engine blew up) and cbf600(v.dull). A safe choice would be a vfr800vtec, but I wonder if I would find it a bit dull after a while, although in bad conditions it would probably be reassuring with its good fairing, headlight etc. I've started to think down the route of Nc700x, aprilia shiverGT and divvie xj6 and really enjoyed your reviews. The xj6 maybe sounds the best but the nc has the tank range and economy while the aprilia sound like fun. I'd keep my scooter so this is just for longer trips with bags. Can you suggest which of these would be best for a long trip? Or should I just think vfr again?

Cheers, David

---

Ren - The Ed said :-
Henrik - I'm sure you have some friends. Maybe the gug who accused you of stealing his track label has forgotten who you are. Anyhow it's all worked out OK hasn't it.

Imagine that, a nice warm room with tools and a bike lift. Sharon and I have spent the last 4 hours stripping down the top end on her bike to try to see if we can solve the Keeway's oil drinking issues. It's cold, wet and miserable in my cramped little shed.

---

Henrik said :-
Ren: I also got no friends :-), (almost), The garage has been established quite a while. I heard a bird singing about one member had left so I called the chairman. I didn't expect to get in, becourse last time I spoke to him was at a enduro track some years ago where he suggested that I had stolen the little yellow label from hes bike, (10£ permission to drive the track), seems he forgot this stupid episode, found his label, or just forgave me :-)

Out off 8 maybe 4 is regulary active, the rest is more "storage-members", very little storage area, and a small room with lift and most nessesary tools, plus a gas-oven to make some quick heat. I am happy it is possible.

---

Ren - The Ed said :-
Ian - Normalisation is perhaps just a clever word for something we all probably do. I was travelling to work this morning through a temporary 20mph zone past some road works. I, being a pedantic git, kept to pretty much 20mph while well over 30 cars sailed by me. It seems it is "normal" to speed along this section and no-one was going to point out the error of their ways. In fact several drivers beeped at me or gesticulated as though it was myself that was in the wrong.

I like the philosophy of looking at your own life and pondering what has been normalised contrary to the expectations, desires or standards you would like to set for yourself.

The human condition is complex.
---