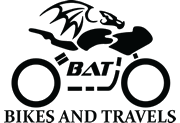 Home
Contact BAT
Forthcoming Events
BAT MCC
Ren's Biking Blog
Sharon's Biking Blog
Guest Posts
Bike Reviews
Bike Gear Reviews
Bike Tips
Travel Stories
Travel Tips
Places To Visit
Places To Stay
Repair And Restoration
Interesting Links
Infotorials
Miscellaneous
Contribute
Search This Site
Welcome To Bikes And Travels...
...It's about bikes...and travels...mostly on bikes!
What's New?
The Southern Coastline Ireland's southern coastline provides a mix of beauty and disadvantage along with sunshine and rain. There's also a small ferry as long as he doesn't get lost again.

---

Q-Tech 901 Motorcross Helmet Review Ren's been asked to review the Q-Tech 901 Motorcross helmet. It's cheap, but is it any good?

---

Kerry's Ring And Skibbereen Will the famous "Ring Of Kerry" live up to the hype? Has Ren spotted the real Father Jack? Will the Germans ever get their Motorrad fixed? Oooooh the excitement is killing me.

---

CBF 125 Tappets At 40,000 Ren's bike has 40,000 miles on the clock! Not bad for a 125 - but will the valve clearances still be in check?

---

Gear Linkage Bodge Remarkable news!! Ren has managed to bodge a repair on the CBF 125 that actually works. This will go down in the annals of history, remember folks where you were when you heard this.

---

CBT Renewal And Stunts On Roundabouts Sharon has to renew her CBT Certificate - will she ever take her full test? In the meantime she's taking up stunt riding of a fashion.

---

The Dingle Peninsula Is the Wild Atlantic Way as wild as it's name suggests? As Ren reaches the West of Ireland will he find what makes this place special and unique?

---

Grabbing Rear Brake Drum Does your brake "GRAB" and is it no longer progressive? Well we don't know what causes glazing but we know how to cure it.

---

Across Ireland To Adare After a great breakfast Ren starts out across Ireland in search of what makes this place unique

---

A Ferry And A Friend - Dublin The ferry to Ireland is fine but Dublin brings confusion. The rest of the day is spent catching up with an old friend filled with philosophy.

---
---
Latest Posts
Long Term Honda CBF 125 Review Peet said :-
Hi Ren

1 Liter of fuel locally cost 0.65 British Pounds or ZAR13.25 or a UK gallon would cost you 2.95 British Pounds working with the current exchange rate.

Yes it is for sure a place of contrasts, poverty and serious crime in some places even 21 years after apartheid has been abolished, but living here is not much different from living any other place in the world. People adapt and you will find people cursing the same place and circumstances that people just next door praise. If I switch on the news that thrives on bad news the world for sure seems dark but if I count my God given blessings and privileges the same world suddenly holds many opportunities. Some people on 125cc do with joy more than what many won't even think of doing with a car and the same can be said about money and circumstances. I believe from abroad the news rather shows the dark side of South Africa more than all the beauty that is to be enjoyed in sunny South Africa and this even influence the local people negatively. But there are many nice roads leading to many nice places and if you have the privilege of owning a 125cc the fuel will always be cheap. There is an adventure that fits everyone's budget for me it is my little Honda Flush WH 125-6.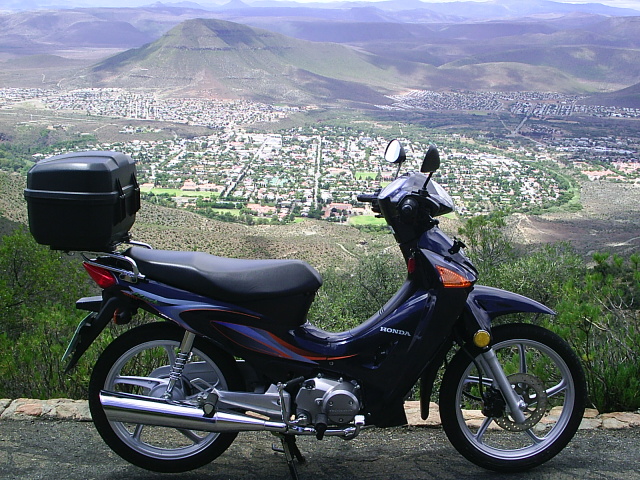 ---

Long Term Honda CBF 125 Review Ren - The Ed said :-
What price is fuel over there? To me here in the UK South Africa seems to be a place of contrasts. I see travellers showing me beautiful scenery yet I also hear tales of abject poverty and serious crime. I can only guess that there is still an awful lot of work to be done even after apartheid was abolished. Lets hope that the struggle towards a better life for all continues apace.

---

Long Term Honda CBF 125 Review Peet said :-
Hi Ren

Here they only sold the 125cc carburetor version till they had finished the batch and then they did not replace it with the new PGM Fi version, they just stopped importing it altogether. I did consider the new 125cc PCX with its 8 liter tank as a replacement because of my 3 liter tank limit but with the extra money that I have to spent for the upgrade I can travel at least 75 000 miles with my little Flush. I only use the tank and never carry extra fuel. I try to go as far as possible before filling up and on the 11 000 miles I already filled it up 123 times giving an average of almost 90 miles between fill ups. I would say its biggest drawback is its tank size.

We have lots of problems here in sunny South Africa but at least the weather benefits us travelers on two wheels, with only 125cc to keep momentum going, most of the time.

Kind regards
Peet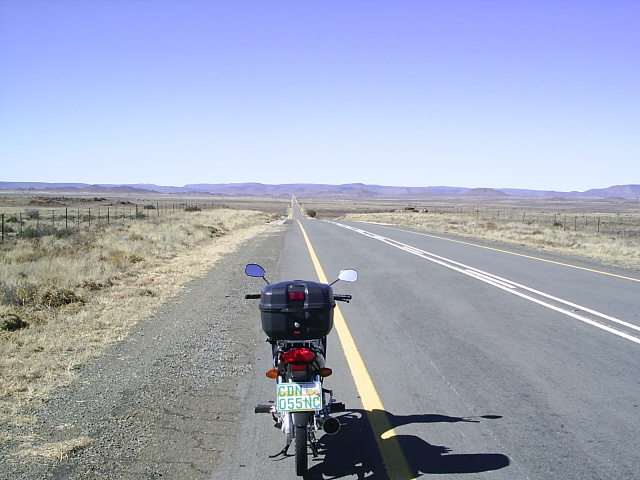 ---

Long Term Honda CBF 125 Review Ren - The Ed said :-
Oh and Peet - stop making us jealous about the weather and the beautiful countryside and the endless empty roads will ya. Life's hard enough here without you pointing it out to us all. Pffffft.

---

Long Term Honda CBF 125 Review Ren - The Ed said :-
Hey Peet! 240mpg...that is unbelievably great. If you look around the site you'll see I've briefly tested the Innova and there's lots of comments from folks with the same bike as you.

Being a geek - the Innova was sold here in the UK as a 125 and I think that's what yours is. I've not seen them for sale here for a couple of years. The Wave is a 110 and still in the current line up and is injected.

I must admit these bikes would certainly benefit from a larger tank. I know they're sold as commuters but...but if Honda stuck a simple 5, 7 or even 11 litre tank on them you could ride almost forever! I've met a few folks who's fitted "additional" tanks.

Cheers :)

---

Prologue Ren - The Ed said :-
Cheers Phil!

I've yet to write up the part where I meet your good self and your pals. I hope the weather's not been bad to you in Ireland as it's a bit ropey here.

I shall endeavour to complete this trip soon as there's more trips forthcoming.

---

Long Term Honda CBF 125 Review Peet said :-
Hi, I live almost in the center of Sunny South Africa and truly admire the fact that you enjoy riding your bikes in mostly what we consider bad biking weather. 90% of our days are sunny and the roads around my little town consist of stretches of up to 250 miles of almost traffic free driving with temperatures ranging from -7 to 45 degrees Celsius and with wind speeds of up to 35 miles per hour.

I own and drive a 2011 Honda Flush WH 125-6 carburetor, basically a newer version of the original 1958 Honda Super Cub and what is known as a Honda Wave/Innova in your part of the world. I've just past the 11 000 mile mark and my average is 173 miles to the UK gallon. With a 0.66 gallon fuel tank I'm forced to keep to a snail's pace in order to make it to the next filling station and have seen 240 miles to the gallon on an economy drive that I undertook covering 120 miles before filling up with the tank only needing 0.4949 gallons of fuel to refill. My worst fuel consumption is 127 miles to the gallon with a headwind that at times forced me to drive full throttle just to keep to a 30 mile per hour speed.

I must admit I rather like the snail's pace for it allows me not only to enjoy the ride but the surroundings as well not to mention the advantages to be found in using only fumes of petrol. I'm still on my original tires, battery, spark plug, chain and sprockets and I reckon the credit must go to the slow pace I'm keeping, the rear tire would need replacement soon. I have covered 335 miles in one day on a round trip with 1 400 miles the most that I have traveled in one month. Before the Honda I had a cheap Chinese Honda look-a-like called a Vuka 110 XL that led me to the Honda Flush, same thing just the materials used were of very poor quality.

I do not travel as much as I would like to but when the opportunity presents itself I do make full use of it. I do not use my little scooter bike as a daily drive for that I use a Honda Airblade 110cc fuel injection which is more comfortable to drive faster but less frugal by not too big a margin.

Greetings from a fellow 125cc South African Snailer.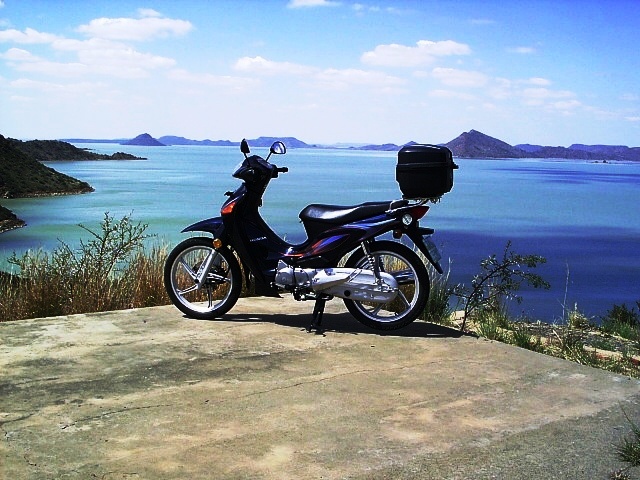 ---

Prologue Phil Burrell CMA said :-
hey Ren
This is a great blog. I feel like I have been on the whole journey with you....... Not just the all to brief ferry trip back to Holyhead.
Ride safe brother.
God bless you.
Phil

---

Guest Posts Ben said :-
Henrik,

Re:-

Henrik said :-
Came across this link when digging info pon de Keeway TX 125

www.moto125.cc/f125cc/reportajes/tematico/item/595-aventura-keeway-tx ...

If you right click on the article, you should be able to translate it

Regards
Ben

---

Long Term Review of the Honda SLR 650 - By Ren Withnell Ren - The Ed said :-
Yikes! That's some bad corrosion. I don't recall any issues like that on mine bit then mine was so dirty I wouldn't have noticed.

Someone once cleaned a bit of mine at the local biker spot - I almost didn't recognize my own bike.

---