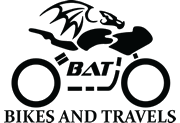 Home
Contribute
Contact BAT
Chit-Chat
BAT Facebook Page
BAT Stickers!
Ren's Biking Blog
Sharon's Biking Blog
Guest Posts
Bike Reviews
Bike Gear Reviews
Bike Tips
Travel Stories
Travel Tips
Places To Visit
Places To Stay
Repair And Restoration
Interesting Links
BAT MCC
Search This Site
Welcome To Bikes And Travels...
...It's about bikes...and travels...mostly on bikes!
What's New?
Pocket Pete's Mystery Tour Ren and Sharon finally get to meet Pocket Pete and Paula, his wife. Ren relishes the refreshing experience of not having to lead and of being "lost".

---

Kawasaki Z 250 SL Review It's Ren's turn to review Sharon's Kawasaki 250. What does a seasoned cynic think of the little Green Meanie?

---

Dodgy Dutch Drivers Their last full day in The Netherlands sums up the whole Dutch experience. "The nicest bad drivers you'll ever meet".

---

A Short Hop To Oostkapelle How do you get lost in 15 miles on a route you already know? How do you upset a German camper? How do you do all this and remain content in yourself? It's called getting old.

---

Honda CB500X 2016 Review Pocket Pete brings us another review about Honda's CB 500 X. Does he like it? Is it any good? Can he make it go around corners?

---

Exploring Zeeland We're chilling out and exploring Zeeland 2-up on a 125. Is this the Dutch Riviera?

---

Do I Have Room In My Heart For Two Bikes? Sharon the two-timing tart feels guilt over dating more than one motorcycle at a time. Can she justify being a such a two-wheeled hussy?

---

Drowning In Zierikzee Philosophy, friendly people, terrible rain and salvation all in one day! Not bad really for pair of wastrels on 125s.

---

Curious Distelloo Sunshine, philosophy and an alternative kind of campsite.

---

Kawasaki Z 250 SL First review With 1000 miles on the clock Sharon gives us her first review of Kawasaki's Z250SL beastie

---
Latest Posts
CBF 125 Alternator-Stator Problem Harry said :-
hi there, just had the very same problem with my bike. not replaced the stator yet, but the new regulator is in there, i just like you said. im no genius, and its better i started at the cheaper part and then go to more expensive part (the stator) becuase its worth replacing both parts.

---

Pocket Pete's Mystery Tour Pocketpete said :-
Yes I'm supposed to a tough northerner. I must get a grip and not be such a fair weather riders. Its just the round yellow thing in the sky is so warm and nice.

---

Pocket Pete's Mystery Tour Ren - The Ed said :-
Now what would the BBC want with a scruffy biker who writes about motorcycles?

The weather can be endured and even enjoyed to some degree with the correct equipment. I relish the challenge sometimes of just blasting through the worse the weather can bring. Nature can be awesome.

Anyhow if you can't ride in the rain then getting out and about in the UK can become quite a rare experience.

---

Pocket Pete's Mystery Tour Pocketpete said :-
What a lovely description of our out trip out. I would spend more time on the word processor surely a job in Salford quays at the bbc beckons for you.

Paula survived the weather I thing we managed to get away with murder we could have been drenched.

It's always hard meeting new people but if you have common ground that helps. You and Sharon are a lovely chatty couple. I certainly learnt a lot from you guys. In particular how to stay warm and dry. How buying expensive gear doesn't actually mean you are going to be warm and dry.

As I'm used to my home comforts and dry warm cars this biking is all new to us it's taken a new mental approach to venture out in anything other than warm sun shine. So far we are both finally understanding just how life is better on a bike.

I'm glad you enjoyed it and hope we can all meet again in the very near future. I will take you on a round trip in the lake district on roads hardly anyone knows or uses.

---

Helmet Review - Shark Vision R Ren - The Ed said :-
It's not just Shark James, I've had problems with my AGV's visor mount recently too. I wonder if the influx of cheap helmets is causing the big players to cut corners rather than focus on quality?

---

KTM 200 Duke...Possibly? Ren - The Ed said :-
I've had a very brief ride on the 390 Abhijeet. It's like the most powerful 125 you'll ever ride. It feels bigger than a 125 if I'm honest but KTM still managed to squeeze in a whole lot of bike into a very small package.

---

Yamaha MT03 (2016) Test Ride Review Ren - The Ed said :-
Cheers Alexander, that's some really useful information. I only had a test ride so I didn't get to sit on the seat for a long long time to really draw a conclusion. Comfort is a very personal thing as we're all different shapes. I kind of like being pushed into the tank but many folks don't. I didn't notice the mirrors being too close, I suspect you're probably taller than I am.

If only we could have 2 day long test rides! An hour is never really long enough to find out about comfort and to eek out all those niggles.

I'd love to hear how you get on with the bike over time. Is it reliable, is it economical, it it fun and all those sorts of things. Do let us know :)

---

Kawasaki Z 250 SL Review Ren - The Ed said :-
The puncture was several days before we met with your good self Pete. Paint? It has paint? Next you'll be telling me it's a nice colour too. I suppose some readers like to know about how it looks but for me it's all about how it rides, how practical it is and how long it will last.

---

Kawasaki Z 250 SL Review Pocketpete said :-
One thing you don't mention is the really nice paintwork. For a small bike kawasaki have put some real effort into the green paintwork.

It seems really thick paint with a sort of metallic finish. It seems to have more quality than my inazuma. And more depth to the the paint than my cb500x.

It seems kawasaki can teach honda a few tricks. I was impressed with the way the hobbit ish Sharon rides. Had no problem keeping up around Derbyshire and managed the off the track bits as well. I hope that wasn't the cause of the puncture.

---

Yamaha MT03 (2016) Test Ride Review Alexander said :-
Whilst agreeing with most comments there are a couple of minor criticisms. First I have found the seat is quite hard for a decent ride it also throws me forward into the tank which is quite uncomfortable. The arms of the wing mirrors are too short, I see more of my arms than that which is following me. The features I think are quite crucial to the safety of the bike.

---
Latest Chit-Chat
Go To Chit-Chat
---

Henrik said :-
Mine too -!!!!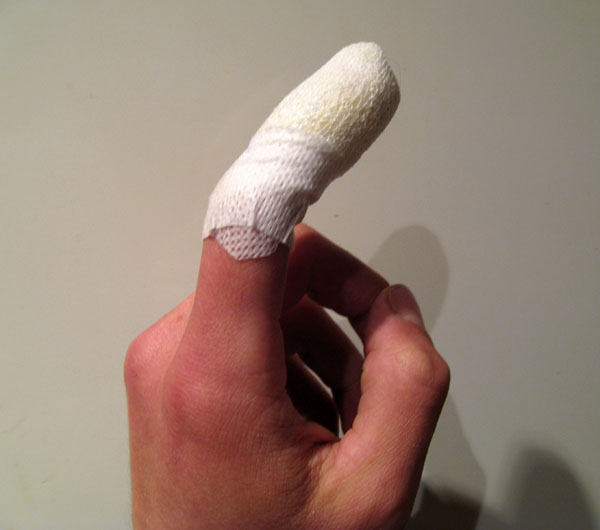 ---

Ian Soady said :-
ps why do you not reverse the order of posts so that the latest ones appear at the top? My scrolling finger gets tired......

---

Ian Soady said :-
The trouble is it has to have the cover on otherwise the gears will fall out.....

If you like interesting engines try this: https://upload.wikimedia.org/wikipedia/commons/e/ef/Napier_deltic_animation_large.gif

Deltic 2 stroke opposed piston diesel engine. Quite hypnotic....

In terms of OHC drive, gears have the advantage of less backlash than chains but tend to be incredibly noisy especially straight-cut ones like those. NSU used an interesting arrangement of eccentrics (copied from vintage Bentleys) but it never caught on.

Toothed belts as used on cars are probably as good as anything (till they snap or the tensioner fails as happened to my wife's car, tangling several of its 16 valves).

---

Ren - The Ed said :-
Oooof!! Ever since Honda introduced gear driven cams I've wondered why they never stuck with them. I'm sure there's good technical reasons.

That engine is crazy though I am entranced with it. I'd like to see it running I think it would be hypnotic. Good find Henrik.

---

Henrik said :-
1958/1959 Benelli 248cc Grand Prix Racing

Seem the designer hated chains more than anything else :-)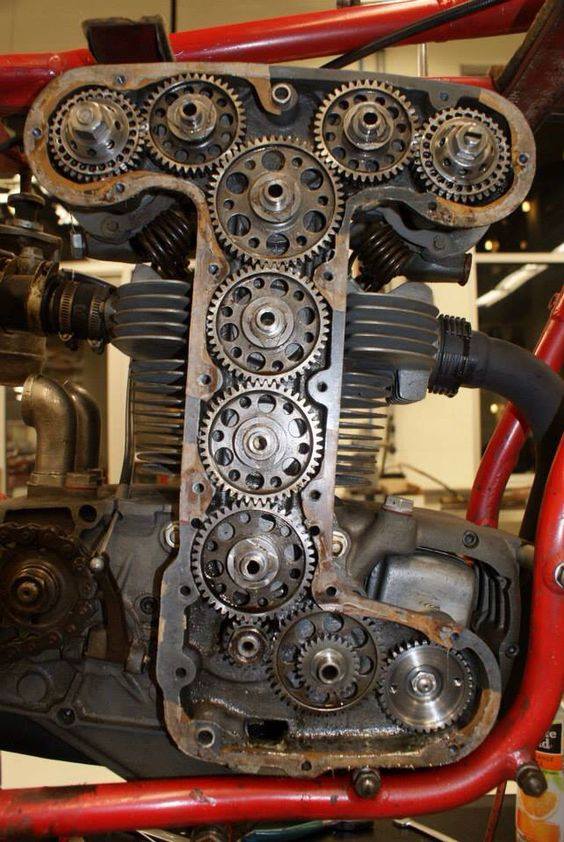 ---

Ren - The Ed said :-
I never been did the linklyfe thing Ian but I've seen it done. My concern would be setting fire to the house alongside chucking what appeared to be boiling grease all over myself and my executive upmarket yuppie studio kitchen.

---

Ian Soady said :-
It's an odd pattern of rust on that chain - it looks as though it hasn't been properly plated.

I love X ring chains which seem to last for ever (at least with my wimpish use of the throttle). The original one on my Tiger 955i was still fine (as were the sprockets) when I sold it with 20,000 miles on the clock. All I ever do with them is give them a spray with Wurth chain wax - and as Ren says, the best time is after a ride when the chain is warm.

I don't believe Scottoilers and the like are needed at all with decent quality X ring chains. The X rings (and slightly less effectively O rings) keep the original grease where it needs to be between the pins, rollers and bushings. There shouldn't be any relative movement between the chain and the sprocket.

It's a far cry from the old days of boiling chains in tins of Linklyfe which more often than not ended up all over the kitchen floor.

---

said :-
Hmm, there's an oring chain on my Inazuma and it went rusty like that the first time out in the rain and developed a tight spot! Keep an eye on it...the chain is one of the few weak points on the Inazuma, the original seems cheap and nasty, hopefully Kawasaki put something a bit better on their 250!

---

Ren - The Ed said :-
Apparently you're supposed to lube the chain BEFORE you put the bike to bed. Like anyone who's had a good rideout has the energy to do that. But fear not, that's an O-ring chain and the bits that matter inside won't be rusty.

---

Sharon said :-
Well despite the soaking the bike and I got on Sunday it was too dark to clean her that night ...and ,and, and then... something terrible happened ...the rust monster came in the night ...arghhhhhh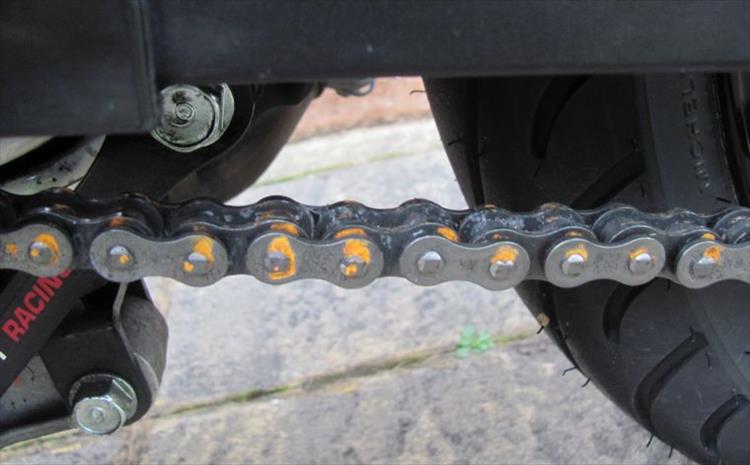 ---
_