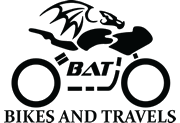 Home
Contribute
Contact BAT
Chit-Chat
BAT Facebook Page
Ren's Biking Blog
Sharon's Biking Blog
Guest Posts
Bike Reviews
Bike Gear Reviews
Bike Tips
Travel Stories
Travel Tips
Places To Visit
Places To Stay
Repair And Restoration
Interesting Links
BAT MCC
Search This Site
Welcome To Bikes And Travels...
...It's about bikes...and travels...mostly on bikes!
What's New?
Different Chokes Even similar motorcycles have different requirements when starting. Choke - or no choke? Blip the gas or not? And...and then what about modern injected bikes with no choke? It's a kind of magic.

---

To Hone - Or Not To Hone (Or Deglaze) When fitting JUST new piston rings should you have the cylinder/barrel/bore deglazed/depolished/honed? There's a whole world of opinions out there.

---

Dirty Winter Bike It's that dirty time of year again folks. Ren is wondering why the hell he puts himself through it all.

---

Module 2 Test AT LAST! Sharon gives us the benefit of her miserable experience of her first attempt at the Mod 2 test.

---

Berghaus Deluge Waterproof Overtrousers Review Ren is deeply saddened by the demise of his amazing waterproof pants. This is the tale of dry crotches, easy putting on and getting off - ness and long service. But all good things must pass.

---

Fake NGK Plug Cap? Ren's CBF 125 seems to have devoured another spark plug cap. Are NGK products not really up to scratch? Was the last one a fake? Does the Honda expose the cap too much?

---

Easy Side/Centre Stand Spring Refitting In this video Ren shows us a simple and easy trick to make replacing side stand springs a hell of a lot easier and less painfull.

---

Tip For Replacing The Rear Wheel Ren shows us his handy trick to help making putting the rear wheel back into the bike just that little bit easier

---

Bearing Basics Ren shows us a short video about bearings, in this case wheel bearings. There's wobbly bits and ball bearings all over the kitchen now.

---

Module 1 Test Today's the day...Sharon has to take the dreaded Module 1 practical test. She's terribly nervous. Will she remember to breath let alone keep the bike upright?

---
Latest Posts
Show Us Ya Big Miles Ren - The Ed said :-
Mark-Cornwall that's fantastic!! I've been joking with a mate of mine about riding a couple of cheap Chinese mopeds up to Stornoway for a while now. It'd be mad silly fun.

Can't think of a better way of seeing the Cornish coastline than a 50. Yeah you don't need big cubes for big laughs. Thanks for sharing that.

---

Show Us Ya Big Miles Mark-Cornwall said :-
Me And The Other Half Took Our 49cc Bikes Last Summer Around The Whole South Cornish Coast In One Day And Racked Up 180 Miles Each.
The Bikes Performed Well And Gave Over 120Mpg Each So A Gallon And A Half Roughly For 180 Miles Not Bad At All.
We Have 600s At Home But Fancied A Challenge - Small Engined Bikes Can Be Fun As Well.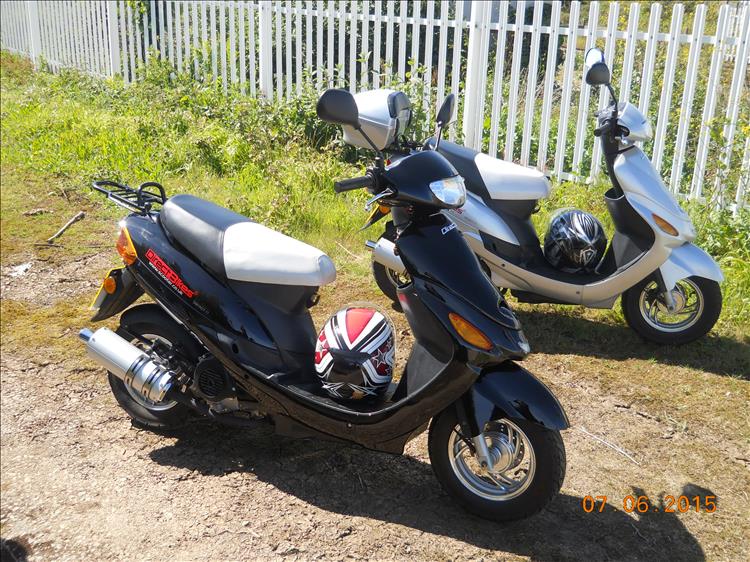 ---

Tips On Riding A 125 On A Motorway – By Ren Withnell Ren - The Ed said :-
Cheers Soraya. Be careful out there.

---

Tips On Riding A 125 On A Motorway – By Ren Withnell Soraya said :-
Great info and tips!!! I will have a go on the M11 going to Stansted airpot from London tomorrow in the morning with my CG125, let's see what happens! :) Otherwise I have the option to get A10 and A120.

---

Scotland In Winter - Which Bike? Ren - The Ed said :-
Cheers Jon Mos. The panniers were given to me quite some time ago. All I can tell you is that they are Hein Gericke and as far as I know they are no longer in production. Yes, they're a great piece of kit but other than that I have no stats or details. Sorry!

Personally I'd lean towards the outgoing CBF as it is proven technology with plenty of information online and lots of parts around. There's nothing wrong it seems with the new CB125F but as it's a new model...who knows! I did a short test ride on one recently, I'll add a link.

I would dearly love to hear your story. Do you have a website? Facebook page? Some means of following your progress?
www.bikesandtravels.com/biker.aspx?ride=812 ...

---

Test Ride Review Of The Suzuki Inazuma 250 - By Ren Withnell Ren - The Ed said :-
Cheers Pocketpete. It's good to get feedback on the 'Zuma and I'm glad you're liking it. The one thing that struck me with the 250 was it's size, it is a bona fide fully grown bike. As such there's a proper back seat and space for all.

14k is a good shakedown isn't it. I used to use an old CB 250 Dream, the 1977 forerunner of the Superdream, when I was a Despatch Rider. That finally gave out at about 50 or 60k with a shot crank. That bike was sluggishly heavy. It seems Suzuki have finally done what Honda should have done aeons ago.

---

Scotland In Winter - Which Bike? Jon Mos said :-
Hi, great pics.

I am planning a round the world trip (UK to AUS). It will take 8 months and I am determined to do it on a CBF125 (or the new CB125F not sure yet). I really like the look of your soft panniers on the cbf125, what is their capacity? What is their model and where did you get them?

Thanks,
Jon

---

Test Ride Review Of The Suzuki Inazuma 250 - By Ren Withnell Pocketpete said :-
The inzuma has been put away for winter but it's has its first service now which was 85quid. And it's nearly ready for its second service in 5he spring done quite a few jokes now. It's still going strong. Nothings fell off or gone rusty.

I get the odd vibration from time to time it seems to come from the engine area eventually tracked it down to a loose bold on the centre stand.

I've had a couple of passengers on who all say it's pretty comfy for its size. It does seem as if it needs the gearing adjusting maybe change the sprockets to reduce max revs on the motorway. It pulls alright so I think It could handle it.

Saw a chap who has done 14k on his inzuma he delivers urgent NHS samples and xamt speak highly enough of the bike he's another who thinks thus is what the superdream should have evolved into.

---

To Hone - Or Not To Hone (Or Deglaze) Ren - The Ed said :-
Cheers Daf. I read tales of people using Scotch pads or even scouring pads! Yes most agree the idea of deglazing is to provide a keyed surface for the new rings to bed into, as you say 'stick' to. The polished surface of a used bore may be too smooth to allow the rings to wear to fit.

I agree totally that if there is ANY signs of wear such as scoring, a lip at the top of the bore or out-of-round then a hone is a minimum, in fact probably much more would be required.

---

To Hone - Or Not To Hone (Or Deglaze) Daf said :-
In the past, and admittedly working on larger diesel engines, I've lightly roughened up a cylinder bore with *Very* fine wet and dry rubbed lightly round the bore in a similar way to a cylinder honing tool would move. Literally only a couple of movements in each location. Dunno if it makes any difference, but I was always told it helped the new rings 'stick' better.

As for honing a cylinder properly with a honing tool - I wouldn't bother unless there's signs of ovality or a lip.

Looking forward to an update on this!

---
Latest Chit-Chat
Go To Chit-Chat
---

Ren - The Ed said :-
Eeewww looks a bit nasty down there Henrik. There are many bikes where the plug is well hidden deep in the depths of the cylinder head. While it does offer protection to the plug and the cap it makes it a nightmare to clean.

I'll email you soon regards meeting up. We are in the area for 2 weeks so the middle weekend would be great.

---

Henrik said :-
We talked about cleaning up around plugs before removing them a while back, never have I worked with such low placed plugs before. Normal plug-key, and normal compression tester could not be used, I had to use some special tools,
and talking about dirt, well, removed it with air-gun, but I would have liked some kind of a vacuum-cleaner with a small rubber-tube also.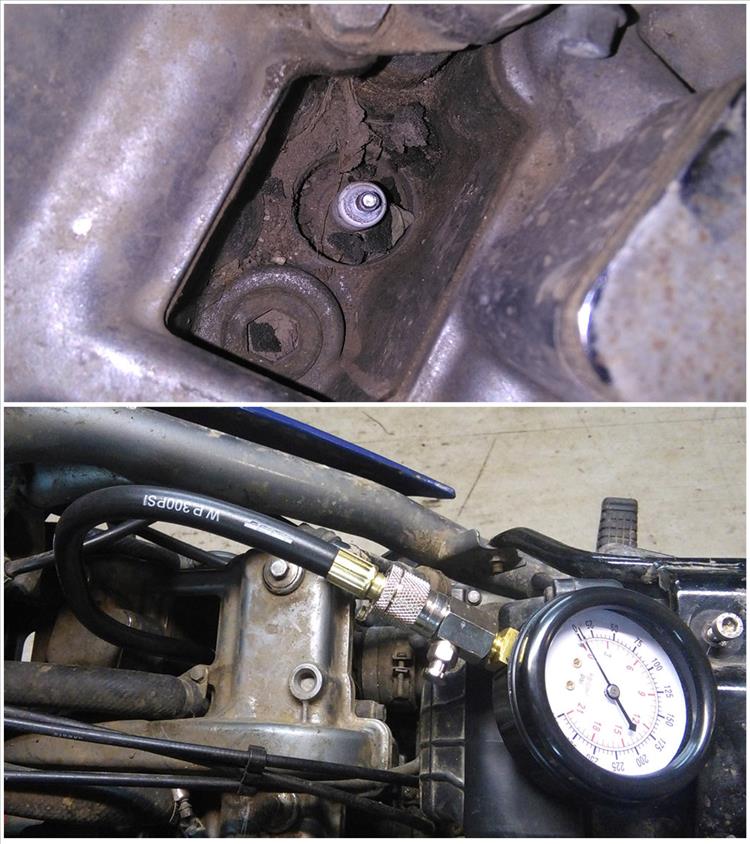 ---

Henrik said :-
Yes there is a third case, two E41 side-cases, and a 52L Kappa top-case, what I am also adopting from the GS500 is the wing-rack plates, exhaust
on the other side makes it a bit challenging, but I will work it out,..

Tank is of due to compression-tests, does not look to good, default 10.8:1, with a "usable range" on 139-213 PSI acc to the manual. I measured 140/175 PSI, within range, but not good. One cylinder miss compression, and one got to much, got no time to big engine project, but will try to run some fuel-additives, (bell add), and hope this will make it work for the next sesson.

If my callender allow, and the bike has a decent condition at the time you
are in NL it could be fun to meet up somehow, it is most likely to happen if you are there two weeks, and I could be there the middle week-end, lets keep the chance open, and shot me a mail when details about your tour is taking form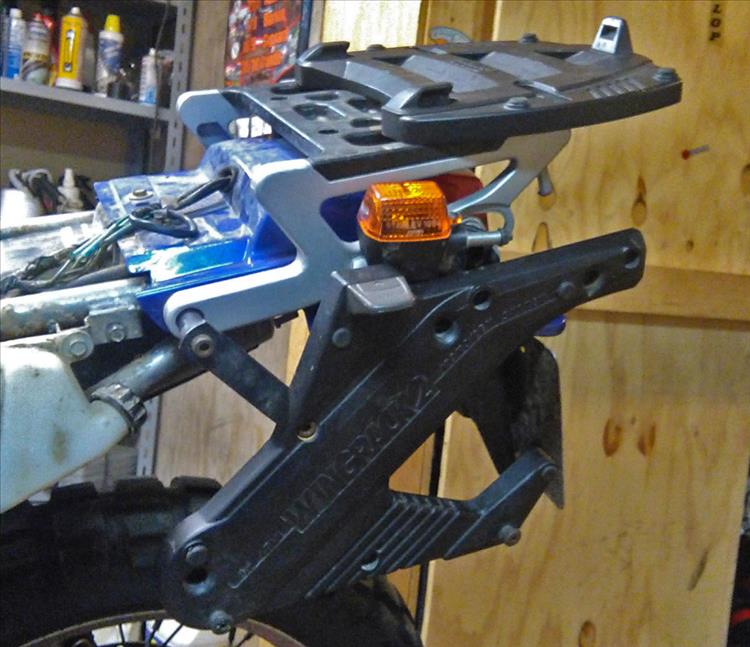 ---

Ren - The Ed said :-
Hey Henrick. Is there a third case? I can only see 2. You seem to be missing a petrol tank as well.

Warm, oh sweet warm, I shall be in my cold damp shed this afternoon as we start to put Sharon's Keeway back together.

We will be in The Netherlands this summer! We should meet you in Northern Germany.

---

Henrik said :-
Fitting them ole Givi E41's from the GS500, the reward for keeping them, saved 150£ for a new luggage system, and yes, nice to have a good dry place to work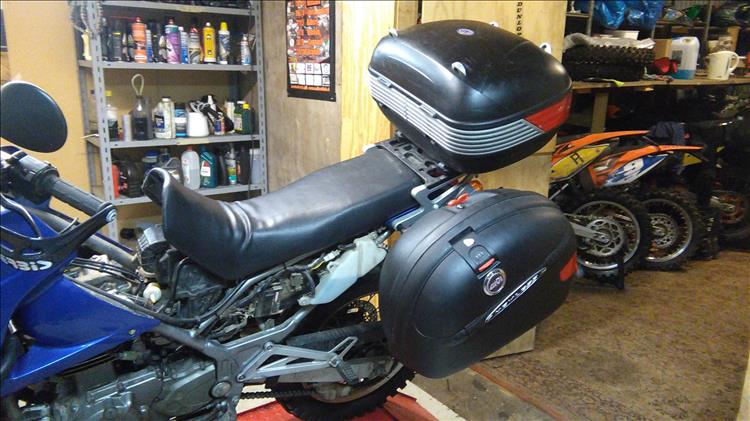 ---

Ren - The Ed said :-
DavidM - It takes a real tough man to be butch enough to ride a scooter. I'm sure you've heard the song "A boy named Sue". If not Google will sort you out.

Henrik - great picture, I think my circle is so deep I'm in it up to my shoulders.

---

Henrik said :-
We all do :-)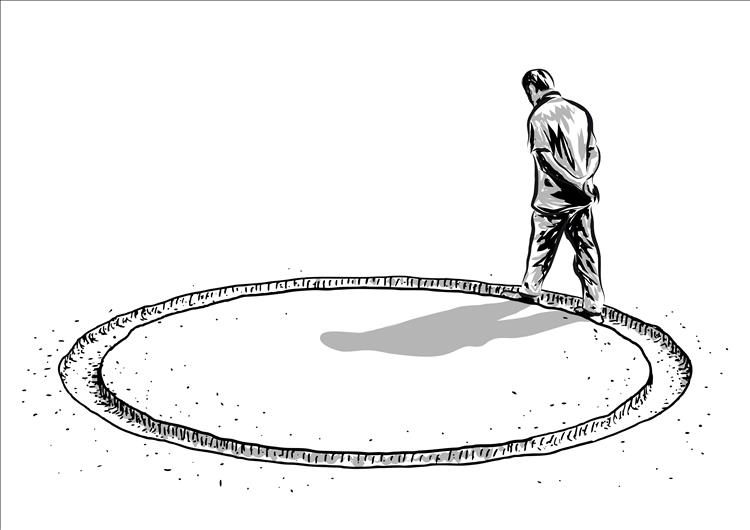 ---

DavidM said :-
Hi Ren,
Very sage advice! But I can be in all of those moods! I sat on an Nc700x for the first time today and it seemed the right size and unintimidating. I can't be sure about the wind protection from that little screen but I suspect it is quite good from being far forward. I don't like too much wind blast and windnoise.I did think about the scooter, it holds 60 mph easily on the motorway and you can stick a big holdall comfortably between your legs in the footwell. It's just you feel a little small and slow and dare I say it ...not very masculine!! Thanks,I'll continue going around in circles....

---

Ren - The Ed said :-
Hi DavidM. HA! Everything is an opinion and I can only offer opinions rather than facts. Firstly I've only ever briefly ridden an earlier VFR 750 once so it's impossible for me to pass judgement on that machine.

The NC700X is sensible and the one I would choose. The Divvie is a good strong solid bike and a sensible option - but lacks economy. It would be more exciting than the Honda though only marginally. The Shiver is an exciting machine with vicious, thrilling grunt while managing to be user friendly with a good seating position and 3 switchable power options that make it tame if the mood or weather requires. High exhausts can make luggage choices difficult.

Are you a hooligan? Then it's the Shiver. Are you sensible? Then it's the Honda. Are you in between? Then it's the Divvy. Of course the VFR is, I am told, an excellent tool but for me there's one thing that puts me right off - complexity. The major service is phenomenally expensive. The easiest to service would be the NC.

We could go around in circles all day long...so instead how about making it a REAL adventure and taking the scooter? You'll save a fortune and see a whole lot more.

I'd love to hear what you decide. Either post up on here or drop me a line - renwithnell@hotmail.com.

---

DavidM said :-
Hi Ren,

I've scooted for the last 2 years and have an SH125 which is a great scooter, but am thinking of a Midlands to Switzerland trip by bike. I'm 6ft tall and biked for 9 years. My favourite owned bike so far has been a Thundercat-loved the engine and design-, after a F800ST(engine blew up) and cbf600(v.dull). A safe choice would be a vfr800vtec, but I wonder if I would find it a bit dull after a while, although in bad conditions it would probably be reassuring with its good fairing, headlight etc. I've started to think down the route of Nc700x, aprilia shiverGT and divvie xj6 and really enjoyed your reviews. The xj6 maybe sounds the best but the nc has the tank range and economy while the aprilia sound like fun. I'd keep my scooter so this is just for longer trips with bags. Can you suggest which of these would be best for a long trip? Or should I just think vfr again?

Cheers, David
---